Many Half Hours
With Mushroom Hour Half Hour, Sibusile Xaba, Thabang Tabane,
Dennis Magagula, Mele Broomes, Omar Afif, Katie Armstrong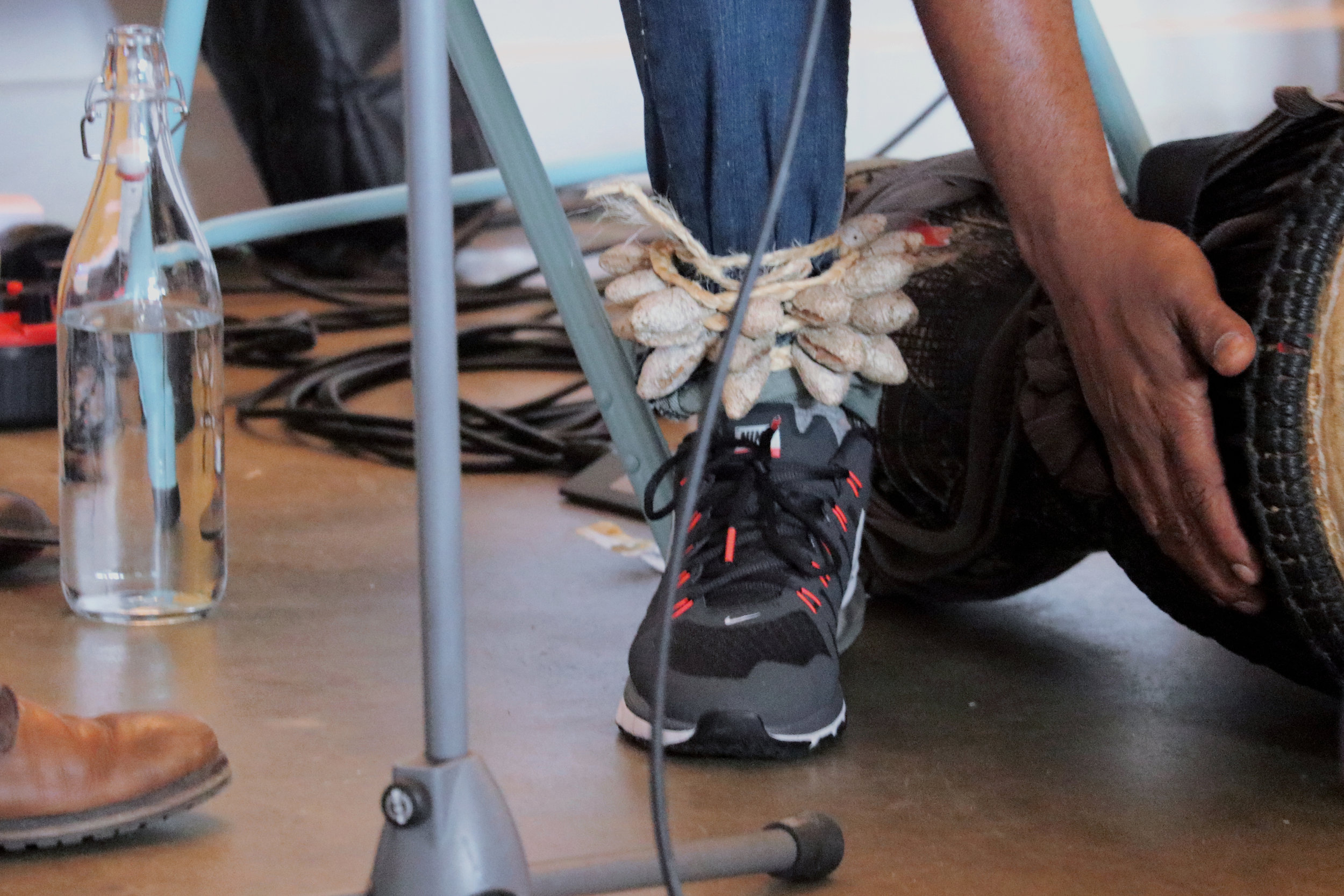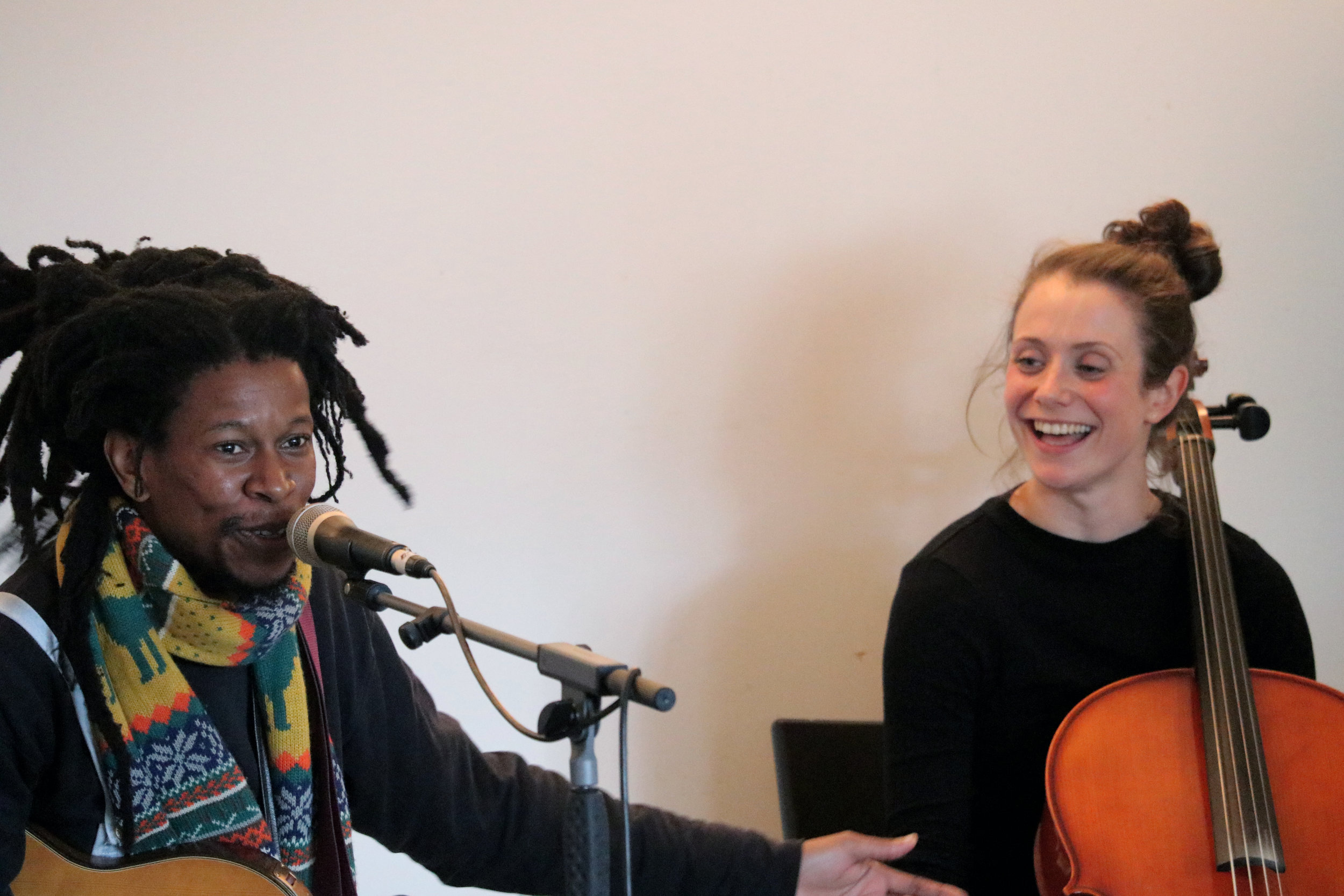 22 May - 04 June 2017


The Gallow Gate hosted a 2-week residency with Mushroom Hour Half Hour as part of the British Council Connect ZA 2017 programme. Mushroom Hour Half Hour invited 3 incredible musicians to Scotland, Sibusile Xaba, Thabang Tabane and Dennis Magagula to collaborate with 3 UK based musicians and artists to create new work. The artists from the UK were Omar Afif, Mele Broomes, Katie Armstrong.
The invited artists all come from diverse artistic and traditional backgrounds, with artists hailing from South Africa, Morocco, England, Scotland, bringing sounds of cello, gimbri, djembe, congas, krakebs, guitar, as well as writing, visual arts and dance practices. Most of the artists have never played together before, often intertwining contrasting musical traditions to create a unique fusion of sound and moment. A series of live performances will be staged throughout the residency, inviting the public to trace the process of the collaboration.
Mushroom Hour Half Hour is an Experimental Music Imprint from Johannesburg. They curate location specific recordings featuring musicians that would not ordinarily play together - musicians from different generations, traditions and musical styles, to form unique, once-off collaborations. This residency is built around the theme of collaboration, both between The Gallow Gate & Mushroom Hour Half Hour, and between artists in UK & South Africa. As well as inviting public to a series of live performances, "Many Half Hours" produced a series of recording sessions in and around Many Studios which will be hosted online at www.mushroomhour.com and released by Mushroom Hour.
The residency was supported by the British Council Connect ZA and the National Lottery through Creative Scotland.
MID-WAY SHARING
Biographies
Thabang Tabane
(Percussion, vocals)
Thabang is a percussionist, vocalist and composer from Mamelodi, Pretoria. He is the son of South African guitar legend, Dr Philip Tabane, who was the originator of an influential music style in South Africa called Malombo. Although Thabang has taken the Malombo baton from his father, his own funky compositions draw from a wide pool of African rhythms.
Sibusile Xaba
(Guitar, Vocals)
Sibusile is part of the burgeoning, dynamic jazz scene that has over the past few years reenergised the urban musical soundscape of South Africa. His influences criss cross between South African jazz, Maskandi (a traditional guitar style Kwazulu-Natal) and Malombo (mentioned above).
www.sibusilexaba.com
Omar Afif
(Gimbri, Krakebs, Vocals)
Omar is originally from Essaouira, on the Moroccan Atlantic coast and is a Gnawa musician, craftsman and chef who is now based in Aberdeenshire. He plays a Guembri, a three-stringed bass like instrument, and works as a soloist as well as on collaborations creating fusions between Gnawa music, Scottish folk and much more.
Gnawa music is a traditional North African folk music that combines ritual poetry with traditional music and dancing, it combines Berber, Arabic and Islamic rhythms from ancient African Islamic culture.
Omar is continuing this exploration with an experimental twist, bringing Gnawa traditions to new audiences as well as collaborating to create fusions that combine the Guembri with a range of other instruments and styles including bagpipes, guitar, fiddle and banjo.
www.omarafif.co.uk
Katie Armstrong
(Cello, Dance)
Katie trained at Rambert School of Ballet and Contemporary Dance. Upon graduating she danced with Rambert Dance Company in Itzic Gallili's A Linha Curva. Following this she went on to work with various companies and artists around the UK including The London Ballet Company, Rosie Kay Dance Company, National Theatre Scotland/Lies Pauwells, Company Chordelia/Scottish Opera, Jack Webb Dance, Chrissie Ardill and Tamsyn Russell. She has also choreographed work for ZENDEH Theatre Company's HEART which toured nationally in 2013-14, Secret Garden Party, The Yard Theatre and Wiltons Music Hall. Although by trade she is a dance artist, she also has a passion for music and plays the piano and cello as a hobby.
Mele Broomes
(Dance, Choreography)
Mele originally trained as an artistic gymnast before redirecting her skills in physical theatre. Following that, she studied at The Scottish School of Contemporary Dance. In 2011, she founded V/DA, and since, has presented 8 collaborative explorations between movement, concept and scenography. Mele is one of the lead artists running a new educational and professional development programme called Project X. Project X platforms and facilitates dance forms within the African Diaspora and supports conversation about racism and micro-aggression within dance. Mele has created and presented work in association with Yorkshire Dance, Dancebase, Brighton Fringe, Edinburgh Fringe, Festival Grec, DanceLive, Tramway, The Arches amongst others.
www.variousdanceartists.co.uk
Mushroom Hour Half Hour
(Music Imprint, Producer: Andrew Curnow)
Mushroom Hour Half Hour began in 2012 as a vinyl based music show on a friend's internet radio station, and has since evolved into a unique, Johannesburg based independent record label, whose primary focus is the recording and release of contemporary, live African music.
They travel around (mostly) Southern Africa with their mobile recording studio, recording different musicians in different spaces. Through this approach to recording they have built a large and diverse network of unique musicians.
Along with recording the original compositions of the musicians they work with, they also curate recording sessions with hand-picked musicians that would not ordinarily play together - musicians from different generations, traditions and musical styles - to form unique, once-off collaborations. The compositions that come out of these sessions are either improvised on the spot or workshopped by the musicians over a number of days.
To date, they have recorded sessions with a host of South Africa's finest poets and musicians, including Lefifi Tladi, Carlo Mombelli, Lesego Rampolokeng, Nono Nkoane, Thandi Ntuli, Tlale Makhene, Blk Jks, Joao Orecchia, Siya Makuzeni, Malcolm Jiyane, Makhafula Vilakazi, Yugen Blakrok, Nosisi Ngakane and Nonku Phiri, to name but a few.
Apart from the many projects they have produced independently, they have also recently been involved in the following collaboratively produced projects -
In February 2017, they collaborated with Coldcut, the legendary electronic music duo from London that also founded the iconic record label, Ninja Tune. The collaboration was organised and led by In Place of War and Keleketla! and saw Mushroom Hour curating a 5-day composition and recording workshop with Coldcut and local musicians in Soweto. The recorded body of work is set to be released by Ninja Tune during the course of 2018 / 2019.
In 2016, they produced an original music score for a documentary directed by local filmmaker Sifiso Khanyile. The film is called "UPRIZE" and investigates the social and political context that gave rise to the 1976 student uprising. The film recently premiered at the Fespaco African Film Festival in Ouagadougou, the biggest African film event in the world.
In 2015, they were part of a multi-disciplinary collective of Johannesburg based artists called JHB Massive, which attended the Chale Wote Street Art Festival in Accra, Ghana, where they curated, produced and recorded a street jam session featuring musicians from Ghana, Cameroon and South Africa. The Ghanaian musicians included living Highlife Legends, Pat Thomas and Gyedu Blay Ambolley.
Mushroom Hour Half Hour officially launched their website (www.mushroomhour.com) on 16 June 2016 to outstanding public response and interest from artists and organisations across the world. The website is a multi-media platform that showcases and archives all the collaborative projects they produce.
In 2017 they released eagerly awaited debut albums of Sibusile Xaba in May 2017 and Thabang Tabane.